servus.at - Kunst & Kultur im Netz
Kirchengasse 4, 4040 Linz
servus.at is a non-profit initiative for net culture based in Linz, dedicated to demystifying technology. It does this both through artistic research and by offering servus.at non-commercial Internet services for people working in culture and the arts. In the artistic context, servus is part and driver of a community that engages with open-source philosophies and the social consequences of "radical technologies" and positions itself in the field of "Art Meets Radical Openness". The name is also used for the AMRO Festival, a meeting point for the community that servus has organized for fifteen years in cooperation with the Time-Based Media Department of the University of Arts Linz.
Collectives: servus.at & Art Meets Radical Openness servus.at ist eine gemeinnützige Initiative für Netzkultur mit Sitz in Linz, die sich der Entmystifizierung von Technologie verschrieben hat. Dies geschieht sowohl durch künstlerische Forschung als auch durch das Angebot nicht kommerzieller Internetdienstleistungen für Kunst- und Kulturschaffende. Im künstlerischen Kontext ist servus Teil und Motor einer Community, die sich mit Open-Source-Philosophien und den gesellschaftlichen Konsequenzen "radikaler Technologien" auseinandersetzt und sich im Bereich "Art Meets Radical Openness" positioniert. Der Name wird auch für den Treffpunkt der Community, das AMRO Festival, verwendet, das seit 15 Jahren von servus in Kooperation mit der Abteilung Zeitbasierte Medien der Kunstuniversität Linz organisiert wird.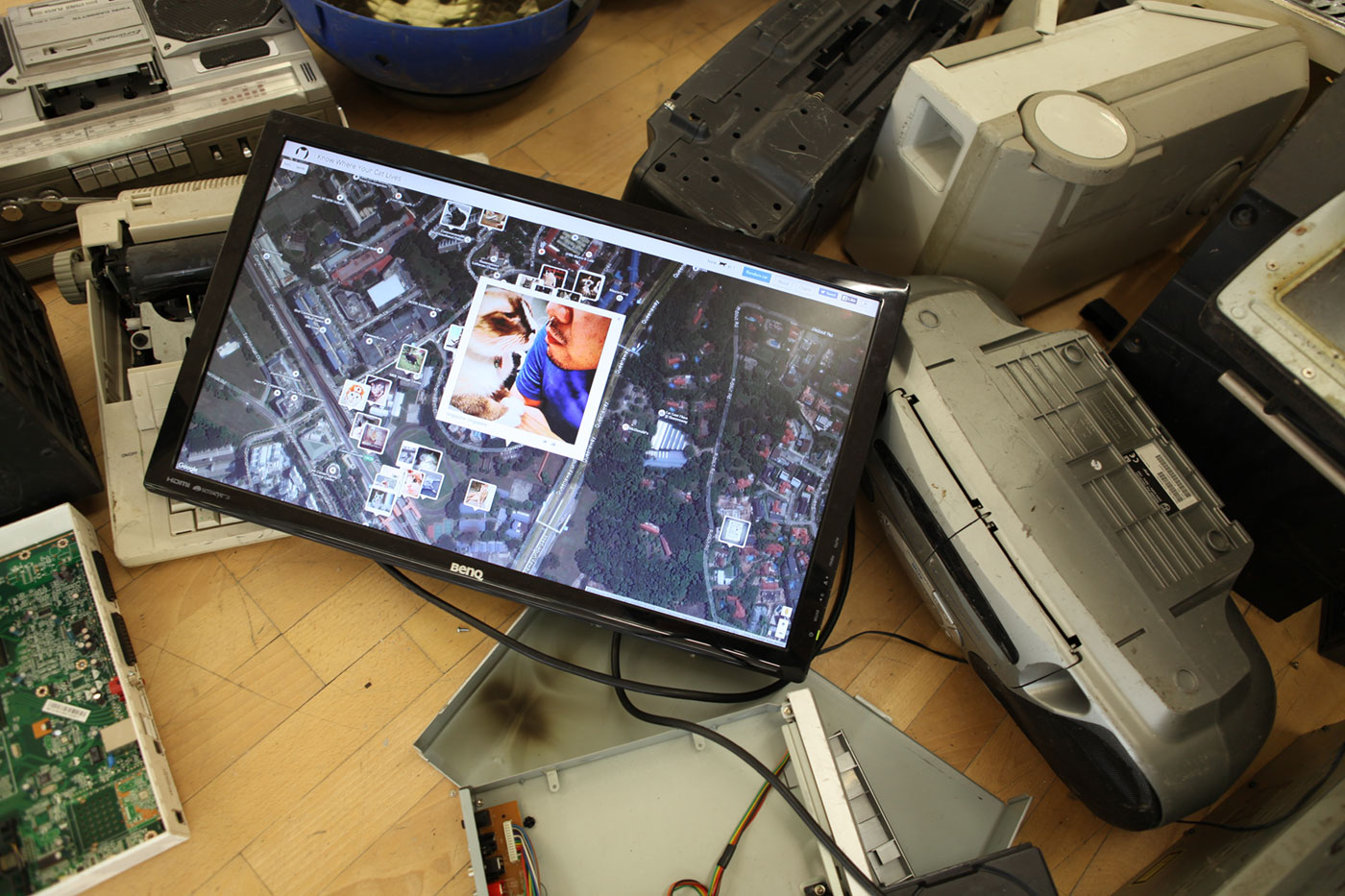 Bild / Image: Andreas Zingerle
Curated by servus.at
What free radicals do and whether they can be stopped (A Portal for Radical Openness)
Installation: Various prints on cardboard,
tablets, books, various materials; 3 x 5 m
Die Installation spielt mit der chemischen Metapher der freien Radikale und präsentiert die AMRO Community als radikale Einheit, die technologische Trends unterbricht. AMRO befasst sich mit Phänomenen digitaler und vernetzter Kulturen: von den blinden Flecken der künstlichen Intelligenz über die ökologischen, sozialen und politischen Auswirkungen von Cloud-Systemen bis hin zu Alternativen für vernetzte Räume der Begegnung. Die Philosophien von Creative Commons und Free Internet sind die Grundlage für einen breiteren kulturellen und sozialen Wandel.
Playing with the chemical metaphor of free radicals, the installation presents the AMRO community as a radical entity that disrupts technological trends. The various AMRO Research Labs address phenomena of digital and networked cultures: from the blind spots of AI, to the environmental, social and political impact of cloud systems, to alternatives for networked spaces of encounter. The Creative Commons and Free Internet philosophies are are the basis for a broader cultural and social shift.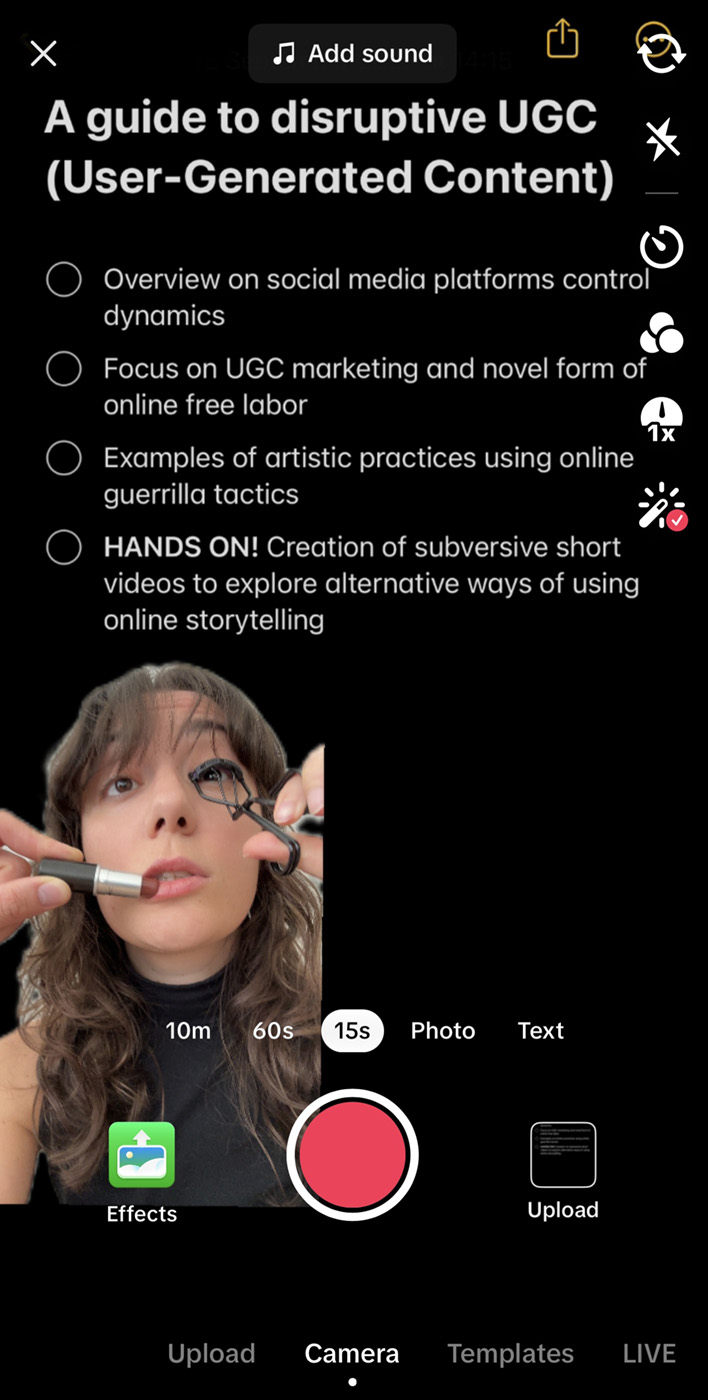 Workshop by S()fia Braga
A guide to disruptive UGC (User-Generated Content)
Thu, 26th October 10:00 – 18:00

Fri, 27th October 10:00 – 15:00
Wohnzimmer Time-based Media, Domgasse 1 4020, Linz
In today's social media landscape, we've adapted to the constant bombardment of advertisement. Brands and companies, recognizing this shift in consumer behavior, have sought new ways to capture our attention. Gone are the days when polished advertisements held our interest; we now yearn for authenticity. This realization has given birth to UGC creators—users who craft content similar to traditional UGC (User-Generated Content) while aiding brands in promoting their products.
During the initial phase of the workshop, we'll delve into the intricacies of social media control dynamics placing a special emphasis on the challenges posed by UGC marketing strategies and the emergence of novel forms of free labor, with a focus on platforms like TikTok. We will look into various artistic practices that aim to subvert social media platforms dynamics and disrupt the user experience through online guerrilla tactics, and we will delve into some of the most relevant internet trends and subcultures to prepare ourselves to create our own subversive UGC.
Throughout the workshop, participants are invited to create short videos in which they will subvert the conventional narrative we've grown accustomed to on centralized social media platforms, while exploring alternative and creative ways of using online transmedia storytelling.